Hormones: can't live with them, can't live without them. Hormones are integral to our bodies and our skin. They regulate our emotions, our metabolism, our reproductive cycles, and so much more. Hormonal skin changes can result in skin that's prone to breakouts, skin blemishes, dullness, and irritation. Or just skin that's a little less than happy! Thankfully, our skincare can help treat hormonal acne and bring harmony to skin.

What causes hormonal acne?
Hormones play a major role in the clarity of skin. They are responsible for controlling and maintaining our skin's oil production. Any changes to hormones can change the balance of oil in our skin – leading to blemishes and acne. Hormones can also aggravate acne by increasing inflammation or throwing our balance of bacteria out of whack. Hormonal acne causes are many and varied!
Who gets hormonal acne on face?
Acne can affect anyone of any age and any skin type. Hormonal acne is particularly common among women, especially during menstruation. Menopause acne is common, too. Hormonal acne can appear in the t-zone – the area including your forehead, chin and nose. In fact, hormonal chin acne affects women of all ages! It can also appear around your cheeks and jawline.
How to treat hormonal acne with natural skincare
There are many different ways to treat hormonal acne. Skincare products can be a great place to start, as they're often less expensive than big ticket treatments. Always patch test first and if you're unsure, see your doctor. Antipodes® products address skin concerns rather than age – which means any age can use these 100% natural origin products.
1: Be gentle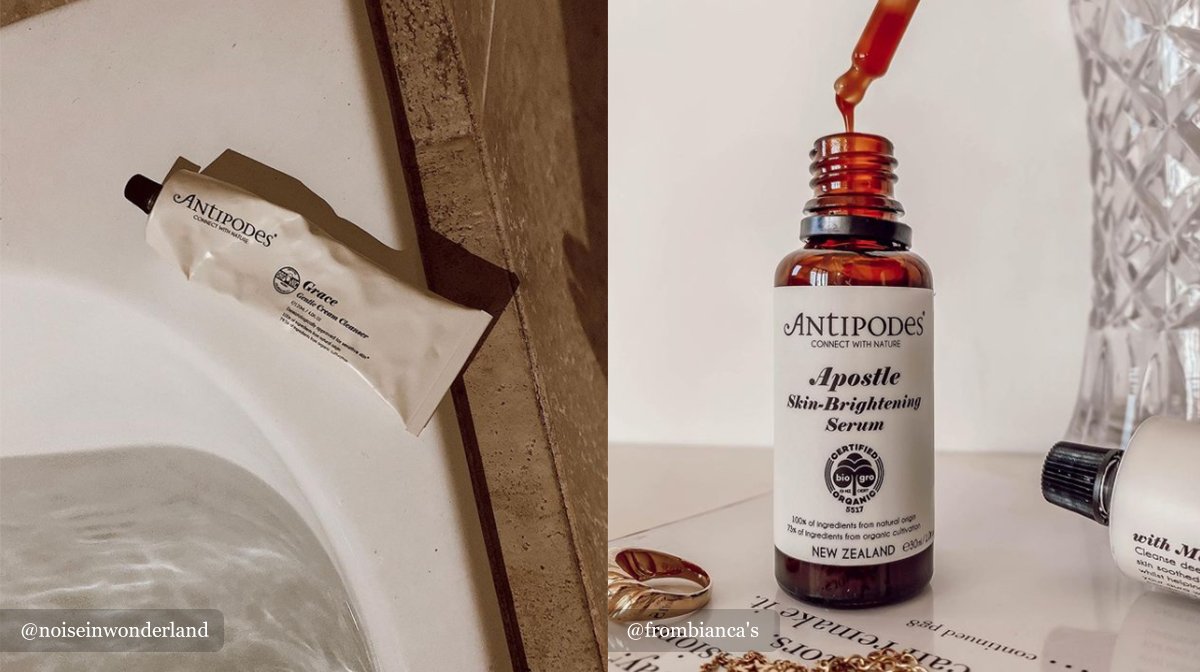 Products that are dermatologically approved for sensitive skin are great for hormonal acne. They are less likely to aggravate the underlying inflammation that causes skin blemishes and spots. Certified vegan and organic, Grace Gentle Cream Cleanser & Makeup Remover contains a powerful anti-inflammatory ingredient: Vinanza® Oxifend. This is a super-antioxidant & anti-inflammatory blend of New Zealand pinot noir red grape skins and sauvignon blanc grape seeds. Marigold bloom, also known as calendula, soothes and cleanses. Because Grace is an effective cleanser, it's a great product for those wondering how to treat hormonal acne.
Hormonal acne skin need not avoid serums. Apostle Skin-Brightening Serum is also dermatologically approved for sensitive skin. Despite its high concentration of antioxidant-rich ingredients, it won't aggravate or inflame skin blemishes. Apostle is a corrective serum, so it helps to brighten dull skin – a common side effect of blemished skin. The formulation features Vinanza® Grape & Kiwi, a compound made from kiwifruit skin and sauvignon blanc grape seeds that's clinically shown to help brighten skin*. As a water-based organic serum, ingredients are carried to the skin for maximum impact.