Flora & Credo
Meet the new gamechangers for stressed, sensitive, and unpredictable skin. Calm redness, reduce blemishes, and restore balance with this high-performance probiotic pair: a creamy mask and a daily gel serum. Certified vegan, made in New Zealand, and proven to be effective.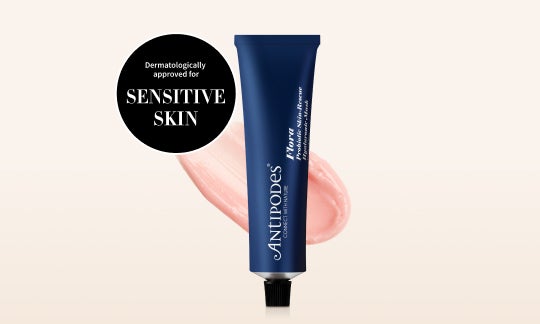 Flora Probiotic Skin-Rescue Hyaluronic Mask
A creamy, cooling weekly facial mask to de-stress and freshen sensitive skin.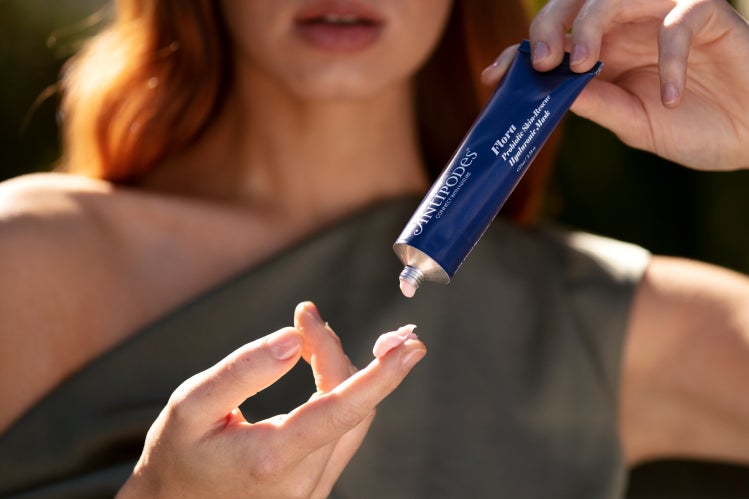 WHO IT'S FOR:
All skin types, especially sensitive
HOW IT WORKS:
Kalibiome Sensitive probiotic offers relief from redness and inflammation
New Zealand harakeke flax hydrates skin while soothing irritation
SMELLS LIKE:
Wild rose & lavender
SKIN FEELS:
Hydrated, peaceful, and stress-free.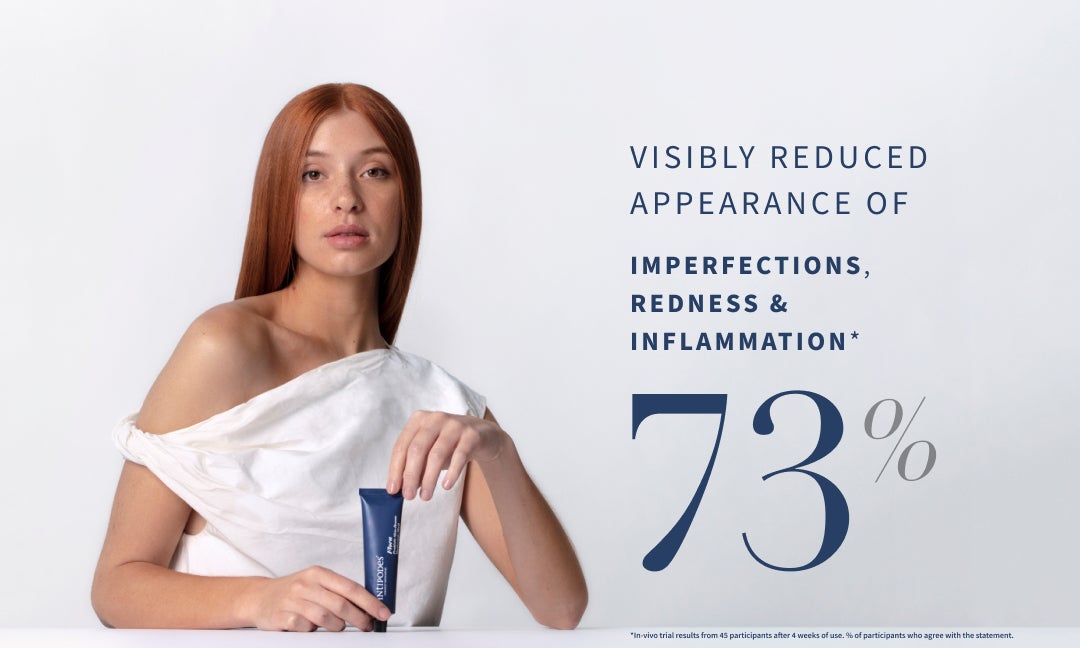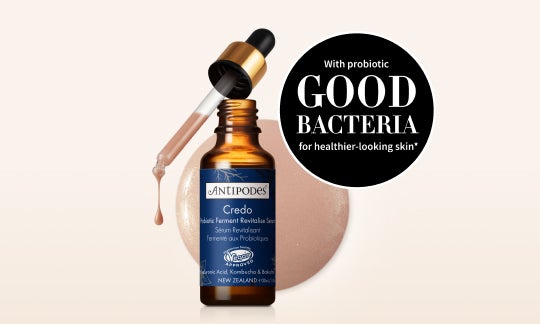 Credo Probiotic Ferment Revitalise Serum
A rich gel serum to clear blemishes and revitalise skin tone and texture.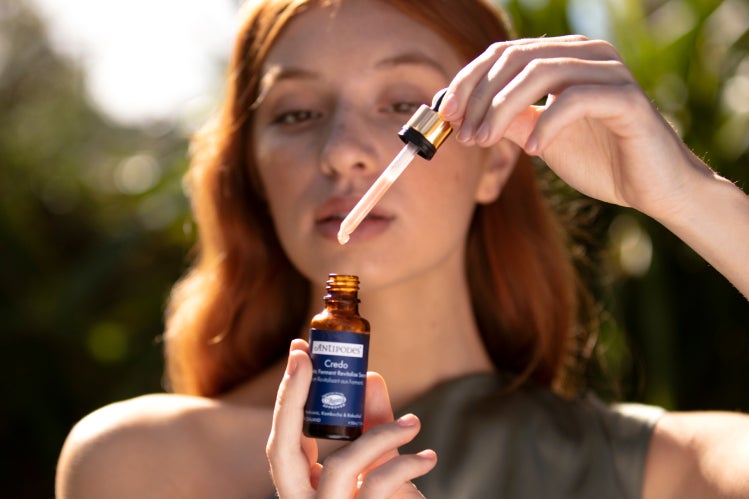 WHO IT'S FOR:
All skin types, especially blemished or stressed
HOW IT WORKS:
Kalibiome AGE probiotic helps smooth
wrinkles, reduce skin redness, and increase
hydration
Bamboo ferment & kombucha offset the
impact of environmental damage and improve
the appearance of blemishes
SMELLS LIKE:
Fresh apple
SKIN FEELS:
Smooth, fresh, and revitalised.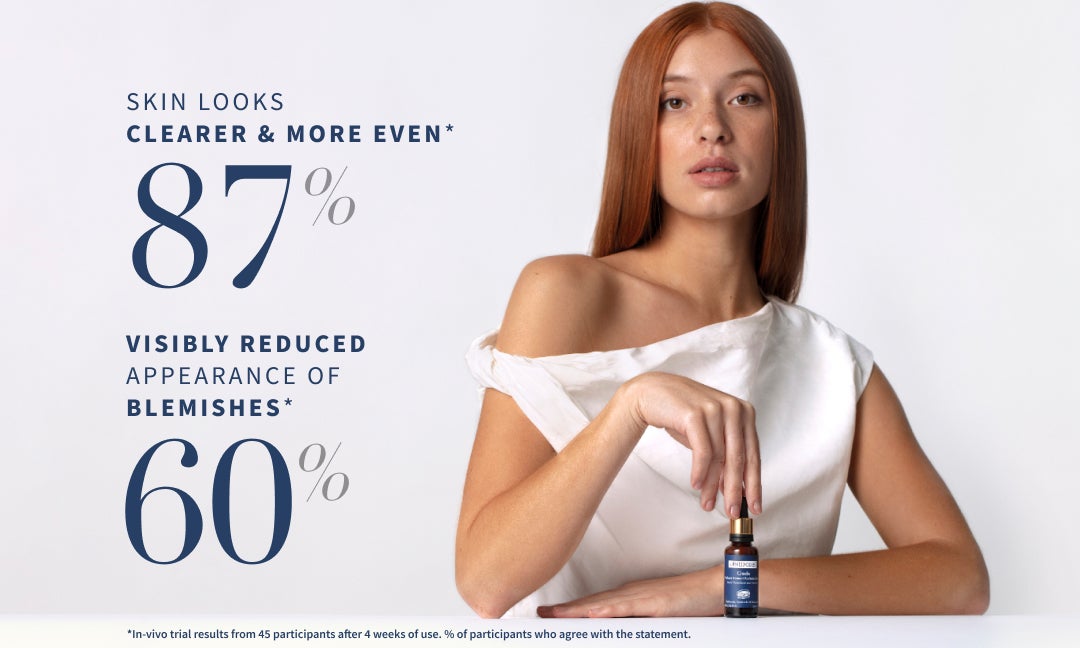 Kalibiome probiotics
Good bacteria for healthy skin
Your skin is your body's largest organ, hosting about 1,000 species of bacteria, yeast, and fungi: known as the skin flora or microbiome. When this bacteria is in balance, your skin barrier – the first line of defence against pollutants – is strong and healthy; skin feels calm, clear, and hydrated. Disruption of these bacteria levels can break down the skin barrier and contribute to issues such as acne, redness, moisture loss, and photoageing.
A balance of good bacteria is not only important – it's critical for skin that looks and feels healthy.
Enter Kalibiome, a new innovation in natural skincare. These non-live probiotics (or "postbiotics") are developed using an ultra-clean, toxin-free double fermentation process. The resulting compounds are active, stable, and carry powerful skin-calming and anti-ageing benefits.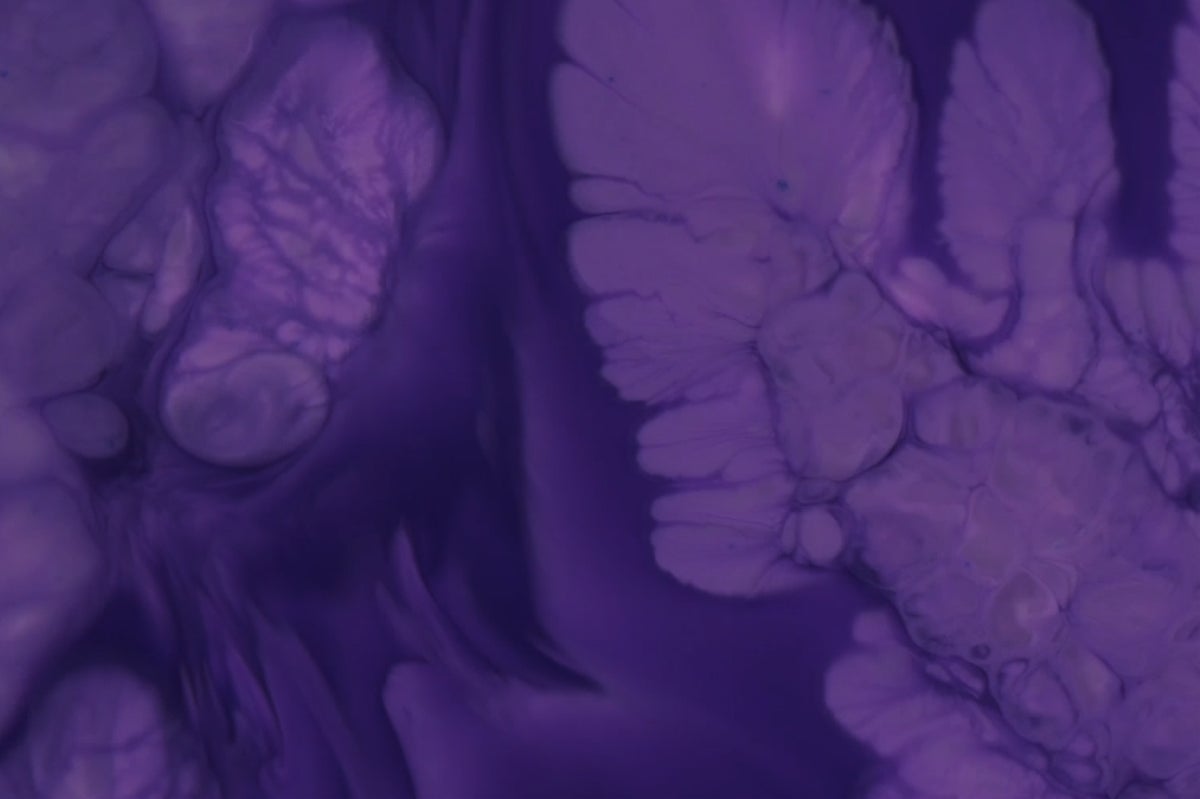 Kalibiome AGE probiotic (CREDO, CULTURE)

Helps: Increase skin elasticity,Reduce wrinkle depth,Reduce redness,Support skin recovery,Increase hydration
Kalibiome Sensitive probiotic (FLORA)

Helps: Reduce redness, Reduce itching, Regulate inflammation, Improve skin barrier efficiency, Increase hydration
Our high-tech ferments & botanical actives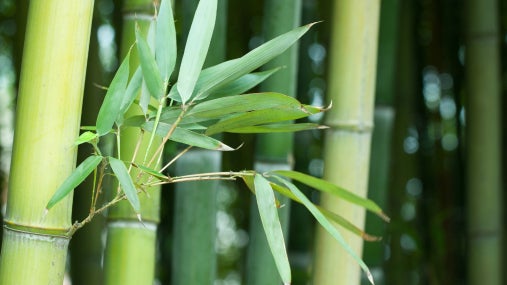 Bamboo ferment
Antioxidant-rich
Created by fermenting sustainably cultivated bamboo stalks and leaves, bamboo is a high source of antioxidants, helping to defend against free radical damage, encourage fresh cell growth, and keep skin plumped and healthy.

FIND IT IN: CREDO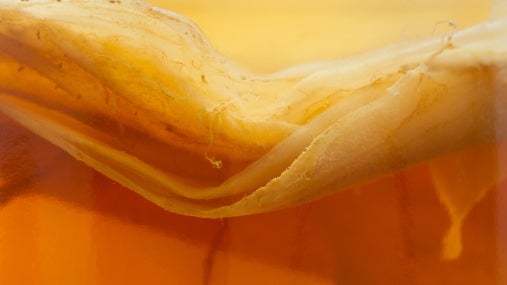 Kombucha
Antioxidant-rich
An anti-inflammatory active as well as a gentle exfoliant, helping to clear blemished skin without irritation. With a high concentration of antioxidants, kombucha works to boost the skin's natural defences.

FIND IT IN: CREDO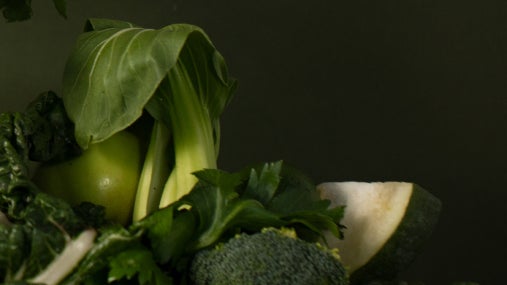 Plant hyaluronic acid
Hydrates & plumps
A polysaccharide with powerful moisture retaining properties – it can hold up to 1000 times its weight in water. Hyaluronic acid helps draw moisture into the skin to hydrate from the inside out.

FIND IT IN: FLORA, CREDO, CULTURE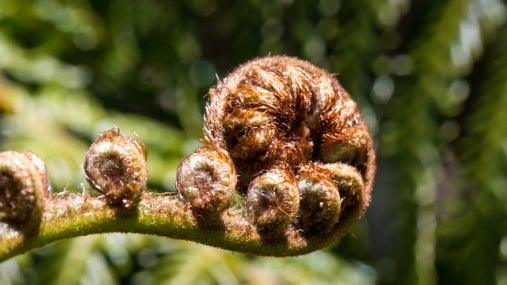 Mamaku black fern
Promotes cell growth
Found in the water-drenched forests of New Zealand, this iconic native fern contains glycosides, or natural sugars, which may contribute to skin cell proliferation (renewal) – helping to produce a dramatically fresh visage.

FIND IT IN: FLORA, CULTURE
Bakuchiol
Nature's retinol
Sourced from the babchi plant, used for centuries in Ayurvedic practice, bakuchiol's antioxidant, antibacterial, and anti-inflammatory properties mimic those of retinol, helping to refine skin tone and texture. Unlike retinol, bakuchiol can be safely used by all skin types.

FIND IT IN: CREDO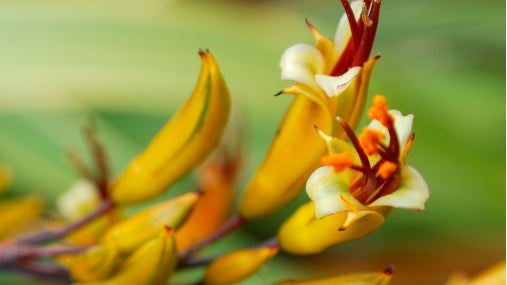 Harakeke flax
Soothes & hydrates
From the roots of New Zealand's native flax, this aloe vera-like gel hydrates the skin and is naturally astringent, helping to cleanse skin and regulate oil, encouraging a blemish-free complexion.

FIND IT IN: FLORA, CULTURE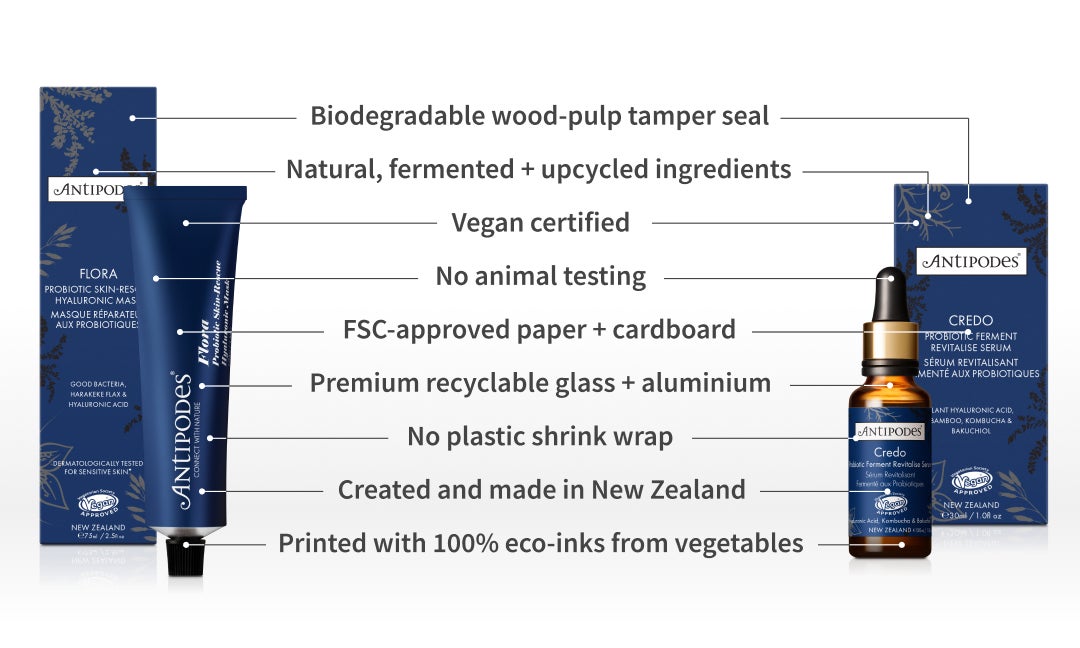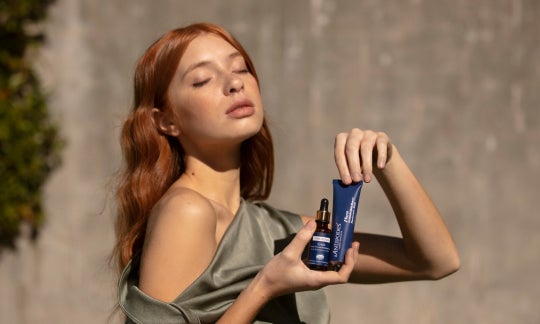 Flora Probiotic Skin-Rescue Hyaluronic Mask & Credo Probiotic Ferment Revitalise Serum