Red. Rough. Blemished. Itchy, dry, and super sensitive. Sound like you? That's inflammation of the skin at work. Most of us deal with inflammation on face from time to time, but thankfully, it's not usually serious. Your skincare can make a world of difference by helping to soothe inflammation on face and prevent it from happening in future. Read on for five ways to help eliminate inflammation for healthy, clear skin.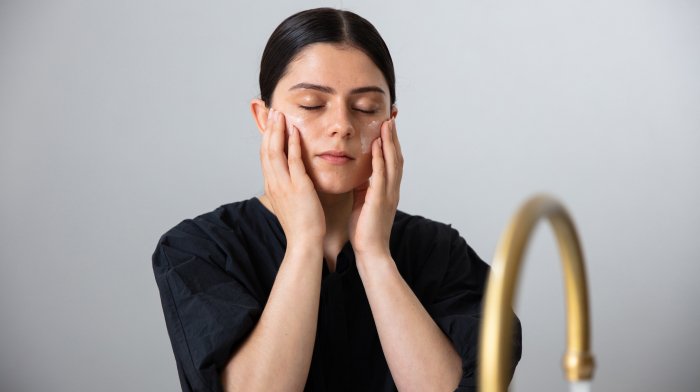 What is inflammation?
In simple terms, inflammation is your body's biological response to fighting irritants. Those irritants could be toxins, allergens, pollution or UV rays. Check your bathroom and kitchen cabinets, as synthetic and chemical products can be just as bad. That's why it's a good idea to use natural and organic products in your clear skin routine.
What does inflammation look like?
Inflammation on face can manifest as blotchy, red, rough, or blemished skin. It can also lead to dark spots or breakouts. Many common skin conditions are caused by inflammation, such as dermatitis on face. It's a good idea to consult with your doctor to rule out any possible medical conditions, especially if the inflammation of skin is painful. A medical professional can recommend a skin inflammation treatment that will help. When facial inflammation is minor, there are simple steps we can take to keep inflammation at bay.
One: Avoid the sun & always use SPF
Ever feel like your skin is on fire at the end of a sunny day? You don't have to be sunburnt to feel the effects of UV damage. In fact, it's one of the most common causes of inflammation on face. You're less likely to need a skin inflammation treatment if you cover up, stay in the shade, and use sunscreen. It's the one step you should take above all to avoid inflammation in the skin.
As well as sunscreen, we recommend applying a natural moisturiser with SPF. Immortal SPF15 Face & Body Moisturiser contains raspberry seed, a major source of antioxidants. Meanwhile, antioxidant compound Vinanza® Grape & Kiwi helps decrease redness*. Because the formulation is fragrance free, it's suitable for the whole family.