Our skin cells are mainly made of water, so skin needs hydration – and lots of it – to keep functioning properly and looking its best.
It's a myth that drinking water can help hydrate your skin. There is no evidence that drinking more water has any positive impact on your skin's hydration levels, or its appearance. Drinking water is good for overall health – so keep it up! – but it won't rehydrate your skin.
Skin needs frequent hydration to keep it healthy, because it's losing water throughout the day due to evaporation, physical activity, weather, and exposure to heating and air-conditioning.
That's why a Skin-Hydrating regime is essential, made up of natural moisturisers that combine water-boosting, nutrient-dense ingredients with scientific innovation to hydrate your skin.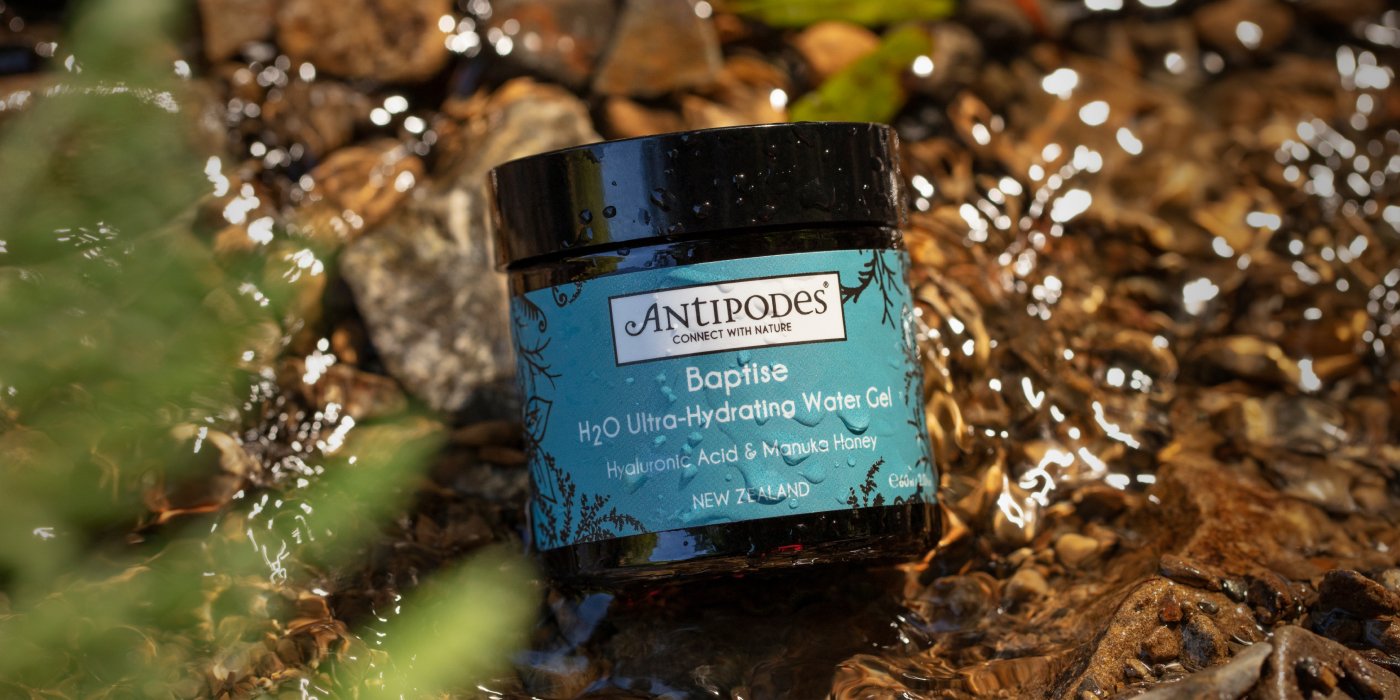 How to tell if your skin is dry or dehydrated
It can be confusing to make a distinction between dry and dehydrated skin, and they can feel similar, so what's the difference?
Dry skin is classified as a skin type, so it's largely fixed. Dry skin occurs if your skin lacks natural oils, resulting in dry patches and flaky, irritated, and uncomfortable skin. Skin dehydration stems from a lack of water and is made worse by environmental factors such as weather and pollution.
It can show up as a lack of firmness, a dull complexion, and a rougher skin texture. Fine lines are more noticeable, because you lack the moisture that's needed to plump the skin's surface. For the same reason, dehydration can make dark circles under your eyes more prominent.
How to hydrate skin with Antipodes natural skincare
These three water-rich formulas combine to make the ultimate Skin-Hydrating regime, to target dry facial skin and promote a healthy, revived complexion.
Ananda Antioxidant-Rich Gentle Toner is a wonderfully hydrating and refreshing treat for irritated, stressed, or dehydrated skin.
Ananda is dermatologically approved for sensitive skin*, so it's incredibly calming, thanks to Omega-rich raspberry seed extract, which teams with aloe vera and marshmallow to nourish and soothe.
The certified organic and vegan toner can be spritzed over the face, neck, and décolletage whenever you need a hydration boost, and it works well over makeup.
Ananda also gently primes skin. As the first step in a skincare routine for dehydrated skin, it better absorbs the skincare products to come, ensuring your skin receives optimal benefits from your serum and moisturiser.