Everyone wants brighter, more radiant skin. But in summer, high temperatures, humidity, and UV exposure can result in skin becoming dry, dull, uneven, and sun-damaged. Support healthy skin with a nature-sourced brightening regime and get glowing skin for summer.
How to get brighter skin
Vitamin C fosters a brighter skin tone by helping to inhibit the production of tyrosinase, which is an enzyme that produces melanin – the substance that causes our skin to darken and change colour. As a result, skincare containing Vitamin C targets redness and pigmentation, and reduces dark spots for skin that looks bright and fresh.
Antipodes' Skin-Brightening range features Vitamin C from Kakadu plum, the world's richest natural source of the vitamin – the superfruit contains 100 times the Vitamin C of oranges. Kakadu plum extract is clean and gentle, without the potentially irritating side effects of synthetic Vitamin C.
The Skin-Brightening range also features the revolutionary antioxidant compound Vinanza® Grape & Kiwi, made from New Zealand sauvignon blanc grape seeds and the skin of kiwi fruit. The brightening extract works to reveal a more luminous complexion and has been clinically shown* to help improve the appearance of skin by targeting skin redness and pigmentation.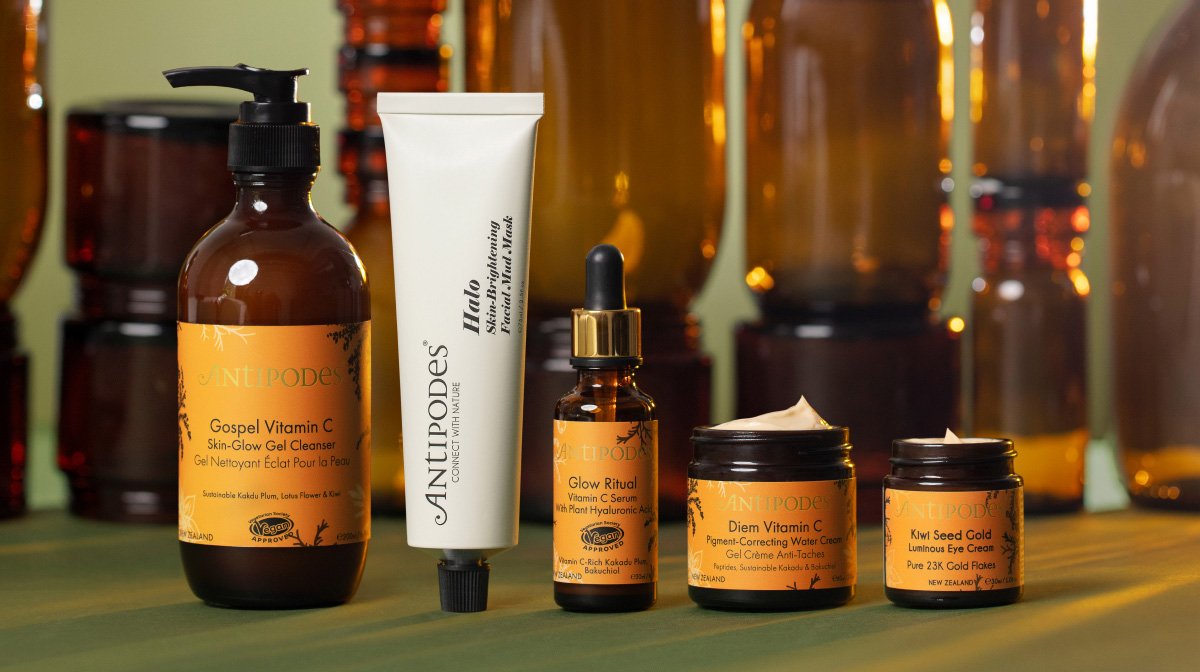 Reveal brighter skin with a Vitamin C cleanser
Exposure to hot weather and powerful UV rays can lead to skin that is dehydrated and flaky, with a feeling of tightness. Summer skin is also more likely to feature a build-up of residue, due to sweat and sunscreen, making blemishes more likely. Gospel Vitamin C Skin-Glow Gel Cleanser is a low-lather gel that cleanses the skin effectively but gently, without stripping vital moisture.
Kakadu plum and Vinanza® Grape & Kiwi work together in Gospel to address dull, lacklustre complexions. The cleanser also features hibiscus bloom, a natural exfoliator to help slough away lifeless skin, promoting a brighter skin tone.